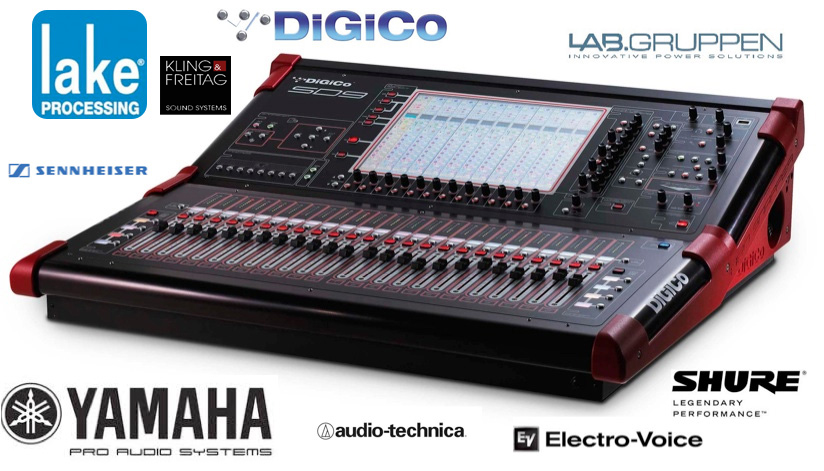 Mu-Mu Audio can provide a bespoke state of the art Live Sound P.A. for your concerts or events.
Our system comprises a DiGiCo Sd9 front of house console with digital snake to the stage. This desk gives us up to 48 stereo channels to mix from. We can also provide virtual soundcheck facilities, with the addition of an RME madiface usb. Of course this means we can also provide studio quality recording of your concert if required to Protools 10, Logic Pro 9 or Digital Performer 8.
The main front of house system is powered by LabGruppen with bespoke mid/top and 18" and 15" sub reflex cabinets using BMS and Faital drivers. Loudspeaker processing is provided by Lake, which is wirelessly networked from FOH.
As standard we can provide 6 independent monitor mixes, from 12" and horn reflex cabinets and 15" coaxial cabinets, these are all biamped using Yamaha amplification and D-Mark loudspeaker controllers. We have recently added to our inventory 8 passive Kling & Freitag 12" and horn reflex cabinets. We are able to provide more than 6 if required.
"We always use these guys now, we want to keep our reputation of putting on quality events with great tech. We haven't found better quality than this. People always comment on how good the sound is. Highly recommended."

Versatile Arts

"I thought all of your shows sounded great..! and I was pleased I >> was not in the same time-zone, minimal sound check, Non >> existent ..etc.....Hopefully we can do some more shows.."

Paul Corkett Record Producer and FOH engineer for The Cure.

"We all thought the sound was excellent, really clear and well balanced, so thanks very much. Also your management of the performers was very well done and helped us a lot, in what was a very tight schedule. Again, great result thanks.."

Brendan Cropper SpookyFest at The Fold

"It was a real joy for us to work with you and your crew. Thank you very much for your professionalism, it made a great difference."

Dele Sosimi and his Afrobeat Orchestra
Some of the artists worked with include: Nigel Kennedy, John Etheridge, Chris Garrick, Theo Travis, And Also The Trees, Martin and Aine Furey, Sean Lennon and Vincent Gallo, Lydia Lunch, Aphex Twin, Alex Harvey, Vice Squad, Aswad, Steve Gibbons, Connie Lush, The Peatbog Faeries, Juan Martin, Dele Sosimi's Afrobeat orchestra, Spooky Men's Chorale, Jim Mullen, Jean Toussaint, Alex Hutchings Band, Spiro, Live work in venues as varied as Hammersmith Eventim Apollo, Glastonbury festival, ATP festival, Paleo festival Hyde Park and The Albert Hall.
We also offer "dry hire": .
Dry hire price list
| | | |
| --- | --- | --- |
| Digico SD9 Package. Includes DRack and Cat 5 multicore and flightcases. | £200.00 | £600.00 |
| Yamaha O1v96 Package. Includes 24 way analogue multicore and flightcase. | £50.00 | £300.00 |
| | | |
| --- | --- | --- |
| FOH amplifier Rack, with Lake Lm26 LMS | £150.00 | £400.00 |
| Monitor Rack for 4 way Monitor mix with DMark LMS. | £100.00 | £300.00 |
Cables and stands as required.
Engineers and system Techs available for short term and long term contracts, rates are negotiable.
System Training also available, please contact us for more details.
PA Equipment List
DiGiCo SD9 Digital Mixing Console and D-Rack digital stagebox system. 32 Channels standard.
Studio Quality Digital recording via MADI to Pro Tools Logic and Digital Performer.
Smaart 7Di Analysis software for effective system tuning.
Yamaha 01v96 Digital Mixing Console.
Lake LM26 Loudspeaker Management System.
Dmark Monitor Loudspeaker Management System for 6-way Monitor mix.
Labgruppen FP6000q.
SAE PM18.
Yamaha P series Monitor Amplification.
18 inch reflex Subwoofer cabinets with BMS drivers.
15 inch Reflex Subwoofers with RCF drivers.
Custom Mid/Top cabinets with BMS and Faital drivers.
8 Kling & Freitag CA 1215-6m full range monitor cabinets.
Coaxial 15 inch floor wedge monitors.
Bi-amped 12 inch floor wedge monitors.
BSS AR133 DI boxes.
Tour quality microphone cables and 24-channel analogue multicores.
32 amp power distribution for FOH, Monitors, and Backline.